Time for an all-new, jam-packed Aiden update. We've launched lots of new features and improvements in the past few months.
On top of all of this, today we're launching Aiden 2.0! Check out the all new design below.
But first, a quick summary of what's new:
✨ Better user experience
You can now embed your apps as an in-page application instead of a pop-up. A highly requested feature to increase the visibility, usage and impact of your product finders.
For single-choice questions, users can now simply click on an answer to navigate to the next question. For multiple-choice and numerical questions, the next button now draws more attention — and it's sticky, so no more scrolling on mobile!
To make it easier to grab users' attention, you can now enrich help texts by using bold and italics. You can also include URLs to send users to other relevant pages (e.g. with educational content or a related product finder).
👉 Better advice
Sometimes you want to make sure that certain products are never shown to certain users. That's why you can now hide bad matches from the recommendations.

Don't want to use all the products in your product feed? You can now set products to inactive to exclude them from the app. You can also use this to avoid 'duplicate advice' in the recommendations!
📊 More insights
Our new answer analytics feature allows you to see which answers are given most (and least) often, thereby shedding a new light on your customer preferences.
To optimize your app, check out our new drop-off analytics, showing exactly which questions perform better or worse.
And so much more! You can now...
Hide the start screen - just make sure your first question reels your customers in!
Publish changes to your app without matching every single (new) product.
See your usage data as a neat funnel: from sessions, to advice views, to click-through.
See the data source of your product catalogue and make sure you're using the correct product feed.
Want to stay up-to-date on Aiden's new features and improvements?  👉 Take a look at our 🗒️ Release notes.
⬇️ Read on for a look at the all new Aiden!
---
Aiden 2.0
Here's something most of you - and us! - will recognize. Clicking the wrong home button in Aiden:
We know! That sucked. But no more.
After lots of user testing, design workshops and some good old fashioned gut feeling, we're proud to present the all new Aiden. This new design improves usability by focusing on accessibility, navigation and by literally giving you more space.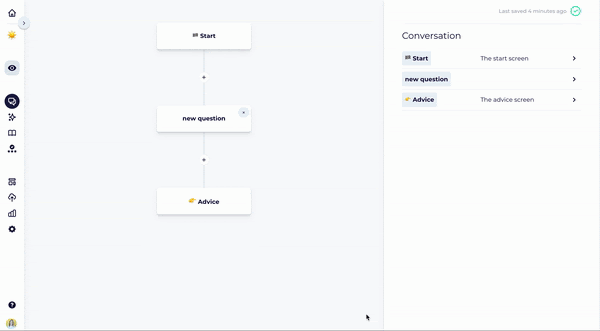 The highlights
🔀 The sidebar navigation makes it much easier to access and switch between different elements of your app.
🎯 Certain actions (such a preview and publish) are more accessible.
↔️ Collapse the sidebar or content panels for more focus.
❓ Instant access to our Help & Support wiki.
🏠 No more accidental 'Home' clicks!
We'll keep optimizing this new design in the coming weeks and months, so your feedback is always appreciated!
Best,
Marja